Fernshot Cricket
(FTCH Emmawood Drake – Emmanygan Tara of Fernshot)
cricket pedigree (original English export pedigree. Cricket is registered in the Danish Kennel Club
Black dog, born April 12 2013
DKK registration: DKK reg. nr.: DK05192/2016
HD status: A
Elbows: 0/0
PRA: Genetically free
Eyes:  Download current eyecertificate
CNM: Genetically free
SD2: Genetically free
EIC: Genetically free
HNPK: Genetically free
Results:
Denmark
Field trial, novice: Excellent – qualified for open (elite class)
Cold game test, novice: Excellent – qualified for open (elite class)
Working test: second place – open class
Showresult: Very Good (Holland)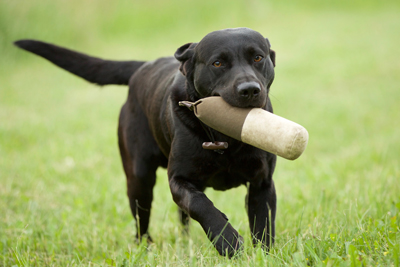 Click the photos for larger views.
Fernshot Cricket is our second youngest dog. He was born in England at Mr. P W Parkins, from whom Mrs Ellis Bos, Holland bought him as a puppy. We came across Mrs. Ellis Bos in 2015, and it turned out, she had this lovely young dog for sale. We are very greatful, that we were found to be suitable new owners of Cricket. He is a real charmer with an outstanding temperament. He is affectionate, willing to please and  integration with the bunch has been without problems. Quite amazing when you think about the fact, that he was "thrown" into a flock of four dogs! He is now on his second season of our  picking-up team and has done some amazing retrieves.
Fernshot Cricket carries yellow and is for stud for suitable bitches.