12/11 2018
Puppies expected end November/beginning of December
Partridge Frozen Fantazy blev den 3. October mated to DKBRCH Lochiness Han Solo. "Tazy" is growing bigger every day and we are looking forward to a lovely litter of black puppies.
Please contact us at ad-it@ad-it.net for further information.
---
---
On March 18 Kullaholms Ginny gave birth to six puppies. Four yellow dogs, one black dog and a yellow bitch. Lochiness Clotworthy Dobbin is the sire of this litter. About Dobbin can be said that he is a result of Keld's trip to Ireland in 2015 where he visited Richard Johnston and IRFTCH Shimnavale Excalibur. A marvellous yellow dog, who unfortunately is no longer quite so accessible, as he now lives in the USA. We have great hopes for this litter. Ginny's puppies from previous litters are sound, with great temperaments and good working abilities – and they don't look bad either!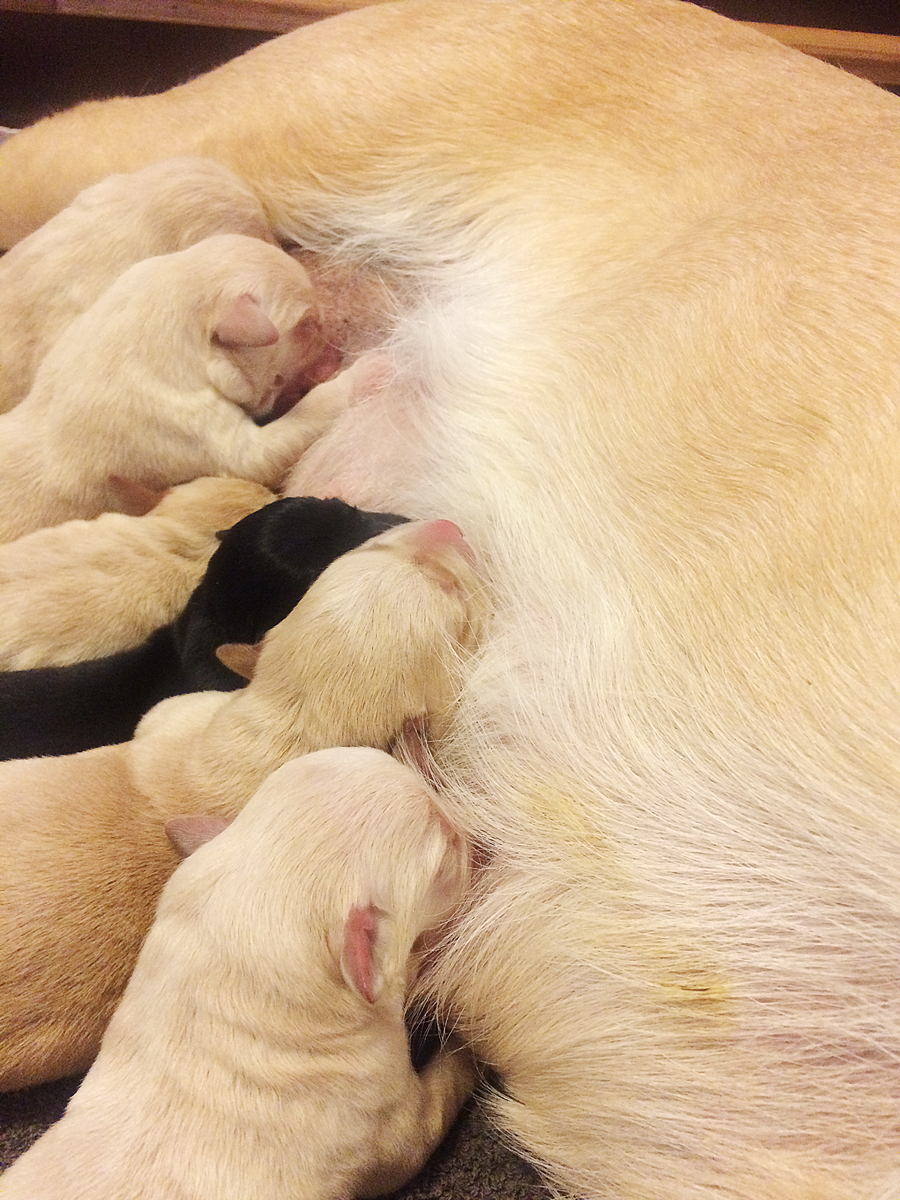 Need more information? Send us an email
Den 3. april.
The puppies are now two weeks old. The three yellow lads are still available. The puppies are really big and strong. They thrive on being few with unlimited access to the bar.
Below is a small collection of recent photos of the two week old pups. Please be patient. The photos will change automatically.
March 18 and just born.
Is that my food, you are preparing out there? I am ready.
---
On December 5th 2017 Lochiness Foxberry gave birth to nine black puppies. 5 boys and 4 girls. This was Foxy's last litter and the sire is Fernshot Cricket. All the puppies have now left home, with our very best wishes for a bright future, where they hopefully will be of great joy and good use for the new families.
Please contact us for more information.

---
The very first video of Foxy's last litter. The puppies are now 4 weeks old and here they are just before being moved to larger surroundings. En new video will be created shortly.
---
Video from January 11th
---