Home Page › Lochiness han solo
Lochiness Han Solo
(Levenghyl Baccarat at Lochmuir – Lochiness Foxberry)
Sort han født d. 15.7.2012
DKK Reg. nr. 13194/2012
Hips: A/A
Elbows: 0/0
PRA: genetically clear via parents' status
Eyes Fri/clear (Download)
CNM: genetically clear via parents' status
SD2: carrier (Download)
EIC: Clear (Download)
Results:
Passed qualification test (show and work)
2 x excellent cold game test open class (markprøve B)
1 excellent on novice field trial  (markprøve A), Field trial winner open (vinderklasse), winning the certificate and the ticket to the 2017 championship.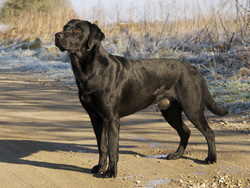 Lochiness Han Solo is a young energetic dog. He is physically and mentally a very strong dog with an outstanding temperament. He is kind to people of all sizes and body language, to other dogs and puppies. He is in short a real pleasure to have. Solo as he is called is a true pleaser, who always tries his very best and is a pleasure to work with. He learns really fast, which keeps the trainer on her toes regarding training plans. Solo is a fast very stylish dog, who works with the same enthusiasm at the end of the day as when the day began. Solo's first shooting season was 2013-2014, where it was very obvious what he was made for, work! He is calm and focused during the shooting and when sent he shows that he has marked and remembers everything. He handles well – also when the "going gets tough". Solo has developed immensely over the past year and so far this has resulted in winning an open class field trial.
So far Lochiness Han Solo sired three litters. Solo seems to be homozygot black.