Home Page › Lochiness james cook
Lochiness James Cook
(DKBRCH Whillanbeck Tinker – Lochiness Candida)
Black dog 18th of December 2005 – November 2018
DKK Reg. no. 00590/2006
Hips: A/A
Elbows: 0/0
PRA: Both parents testet normal/clear
Clear eye test (January. 7th 2011) Download
Genetically free of CNM. Download
Genetically free of EIC, Download
Results:
Passed DRK qualification test
4 x excellent cold game test beginners class. (markprøve B)
2 x excellent cold game test open class. (markprøve B)
1 x excellent field trial – open (Markprøve A)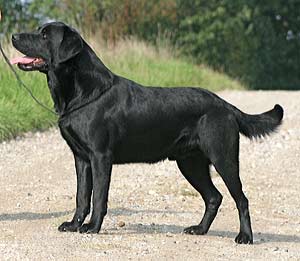 Cook would have turned 13 years in December 2018, but in November we had to say goodbye and thank you for many magnificent days and years to this lovely dog, who gave us wonderful puppies, memorable retrieves and so many years of good companionship.
He was a physically strong and relatively large dog, with an excellent coat. His lovely temperament made it a pleasure to work with him, a temperament which he passed on to his offspring. We have ourselves used him for 4 litters over the years and we were very pleased with the result. Some of his offspring work as service dogs for the disabled, others have a field trial carreer.
Cook has sired litters in Denmark and Germany.
Cook was homozygot black."